Posted on
Kim and George Usher stepping down from Charles City Youth Bowling League leadership role(s)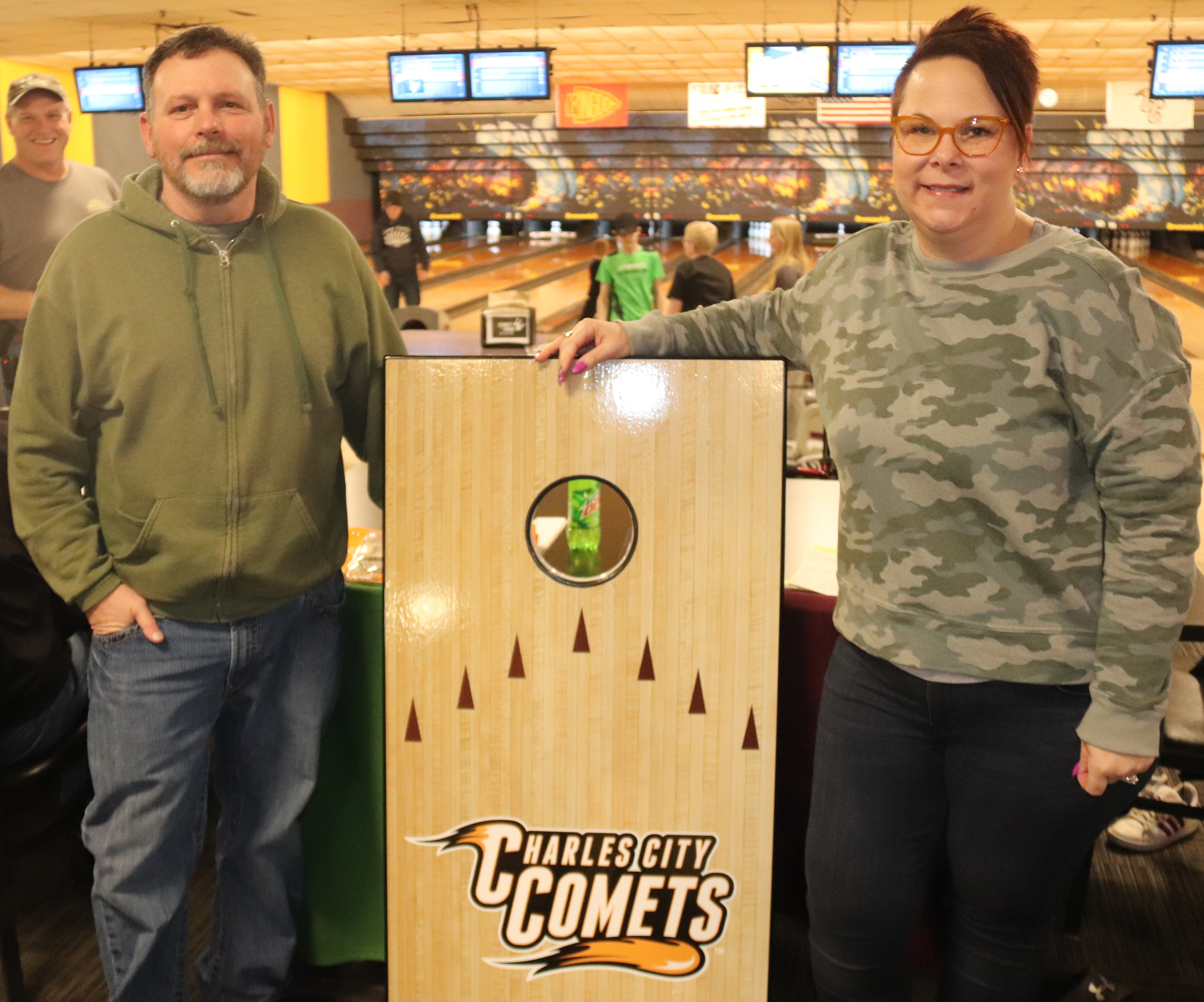 By John Burbridge
sports@charlescitypress.com
CHARLES CITY — When Kim Usher said that she and her husband George were stepping down as co-directors of the Charles City Youth Bowling League, she sounded about as convincing as Charles Barkley and Brett Favre whenever they announced their retirements.
"I can't guarantee you that we won't be having this same conversation next year at this time," said Usher, who as league president handles administrative tasks while George assists with more bowling-related duties, "but that's what we plan to do after this season."
The couple's daughter, Lilly, is amid her final season with the program and the Ushers would like to be more available for support when she goes to college.
This is the Ushers' seventh season with the program that bowls Saturday mornings/afternoons at Comet Bowl from September through March.
The league turnout for this season is 60, many of whom are or will be bowlers for the Charles City high school program.
Comet head coach Doug Bohlen credits the Ushers and their league for the continual influx of talented bowlers. This past high school season, the Comets qualified both the boys and girls teams to the state tournament — the boys team placed third with an overall team score that would have been good enough to win 10 of the last 12 Class 1A tournaments.
Comet junior Cael Bohlen was the Class 1A individual champion.
Every season, the league holds a Higher Education Scholarship Tournament.
"This year we gave out $4,400 in scholarships," Kim Usher said. "They are from $100 donations from 44 local businesses.
"We were worried with the pandemic that we wouldn't get that many donations, but many were still willing to donate."
Among this year's scholarship winners are: Boys 11-and-Under — 1st $450 Cooper Holm (723 handicap series), 2nd $350 Treavor Johnson (637), 3rd (tie) $200 — Brayden Caffrey (632), Sterling Ross (632); Boys 12-and-Over — 1st $575 Isaac Oetken (664), 2nd $425 Justin Babcock (646), 3rd $350 Joey Robel (644), 4th $275 Dillan Ross (643), 5th $225 Aidan Shannon (640), 6th $175 Phillip Ackley (635), 7th $125 Nathan Girkin (623); Girls 11-and-Under — 1st $250 Megan Babcock (607), 2nd $150 Gracyn Sears (581); Girls 12-and-Over — 1st $300 Nicole Raveling (648), 2nd $200 Lilly Usher (620), 3rd $100 Claire Girkin (588).
"The money is put away to where they can't touch it until when they can use it for college," Usher said.
A replacement(s) for the Ushers hasn't been determined yet.
"It's likely going to take multiple people," Usher said. "We'll be around to help out and bring someone along if necessary."
For the second straight year, the league will not hold its end-of-season banquet due to pandemic concerns — last year, the shutdown came with several weeks left in the season; this season had a brief early-season shutdown before the governor allowed the resumption of youth sports in December.