Posted on
Mutch pedals for Children's Cancer Research Fund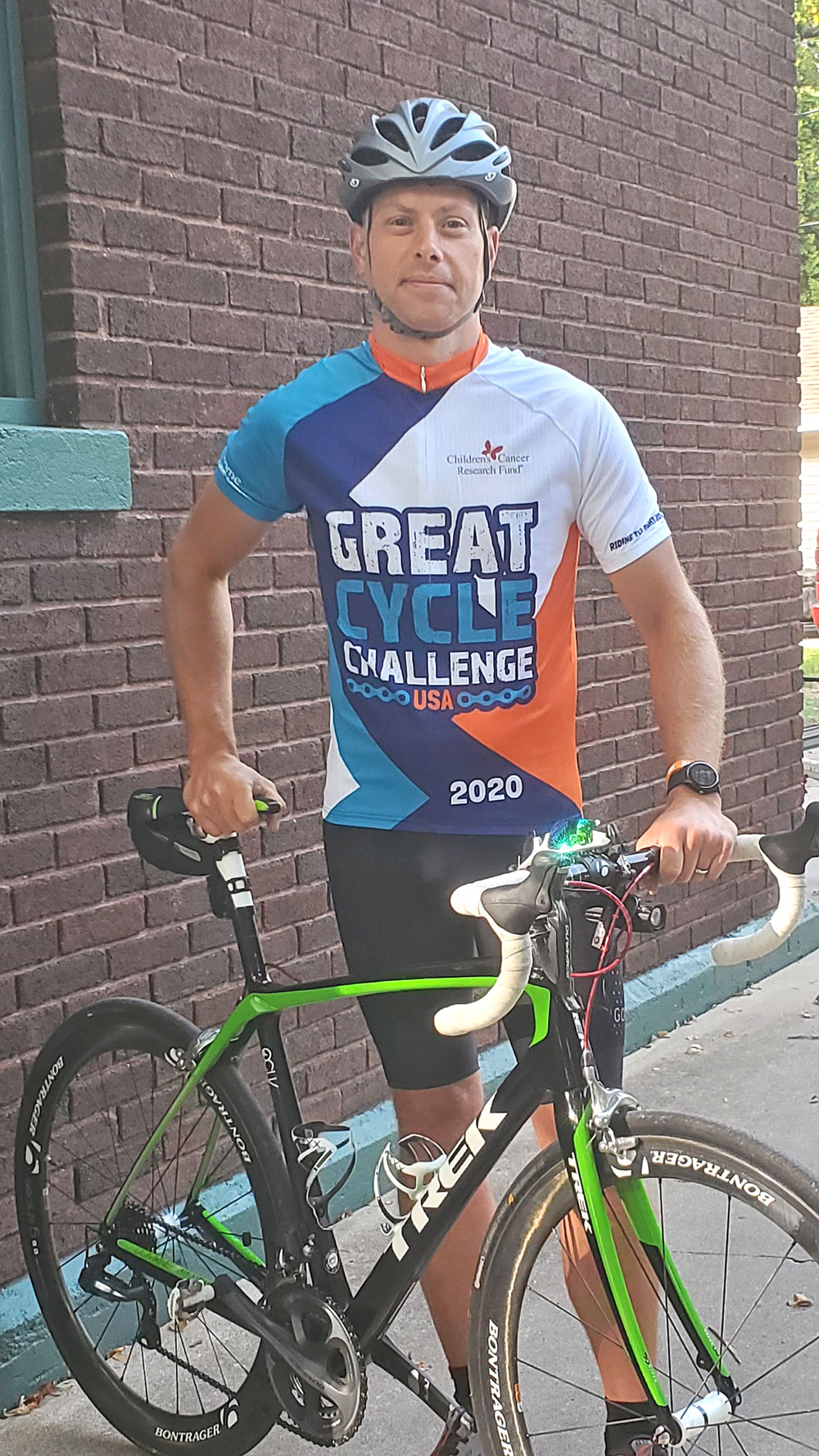 By James Grob, jgrob@charlescitypress.com
Cory Mutch of Charles City underestimated himself. He can ride his bike a lot farther than he initially realized.
Mutch decided to take part in the Great Cycle Challenge this year, and his initial pledge was to ride his bike 500 miles through the month of September and raise $500 for the Children's Cancer Research Fund — $1 per mile.
"Riding is my passion," Mutch said. "If I can do it for a good cause, then that's all the better."
Fueled by that passion for biking and passion for the cause, Mutch realized that by Sept. 15 he'd already passed 500 miles and had raised over $1,000.
"I did way better than I thought I would, so I'm upping my mileage to a goal of 1,000 miles for the month, which is insane, but I'm going to try," Mutch said. "It's such a great cause."
Children's Cancer Research Fund is a national nonprofit, which has contributed $186 million to research, education and awareness and quality-of-life programs for childhood cancer families.
"They are a non-profit out of Minneapolis," Mutch said. "They put back more than 83% of the money they raise to cancer research and something like 10% goes toward fundraising, so a very small amount goes back to staffing."
The Great Cycle Challenge started in 2015, and the event has grown to become one of the biggest cycling events in the United States. People of all ages, abilities and from every state set themselves a personal riding goal and challenge themselves to pedal to fight kids' cancer.
Mutch, 41, works as the marketing director at Molstead Motors in Charles City. Originally from Grundy Center, he moved to town in 1999 and owned and operated Cedar River Signs until selling the business a couple of years ago.
An avid biker, Mutch said he had heard about the challenge over the last couple of years. The event is usually in the month of June, but the situation with COVID-19 pushed things back this year.
"I heard about it, but never really participated in it, but this year I noticed it got bumped back to the month of September, and I thought it was something I'd like to try," he said.
As of Thursday, Mutch has reported cycling 583.8 miles and is ranked 2,510th nationally and 30th in the state of Iowa. To date, he has 23 sponsors. To check updated numbers, visit https://greatcyclechallenge.com/Riders/CoryMutch.
Mutch also keeps a journal on the page and maps out his daily route, and donations can be made right on the page.
"People can donate on the site and follow my progress daily," Mutch said.
The site also tracks the number of riders and the amount of money raised across the United States.
"We're over $12 million raised this year already," Mutch said. "That's just for this month."
For his efforts, Mutch received a biking jersey this week in the mail from Great Cycle Challenge Company, a gift for meeting his goals.
"That got me excited about going out there today and putting on some more miles," Mutch said. "I put my jersey on so people can see who I'm doing this for."