Posted on
Thompson found competent; trial set on sexual abuse charges
By Bob Steenson, bsteenson@charlescitypress.com
A Floyd man charged with child sexual abuse but originally found incompetent to stand trial has now been found competent and a trial has been set for later this month.
Charles Earl Thompson, age 64, had been scheduled to begin trial in January on felony charges of sexual abuse in the second degree, a Class B felony, and lascivious acts with a child, a Class C felony, allegedly committed with a girl age 8-9 in 2018-2019, as well as other misdemeanor sexually related charges.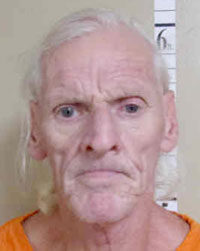 But after Thompson's attorney asked the court to have his client evaluated by a state psychiatrist, District Court Judge Colleen Weiland ruled in February that Thompson was not competent to act in his own defense, based on the psychiatrist's report.
In March, District Court Judge DeDra Schroeder reviewed a report filed by the treating psychiatrist, who wrote that Thompson "is refusing medications, and his refusal is interfering with the restoration process."
Schroeder ordered that Thompson "be treated in a manner to restore the defendant to competency with recommended medications to facilitate the restoration process."
In May, Schroeder ruled that Thompson had now been found competent to stand trial, and ordered him transported from the Iowa Medical and Classification Center back to Floyd County Jail. Trial was set for August, but then postponed until September because of COVID-19 concerns.
On Sept. 12, Thompson's attorney, Matthew Pittenger of Mason City, filed a motion asking for a hearing, noting that, "There are still concerns about the defendant's competency."
Pittenger wrote that the Floyd County sheriff had expressed concerns about Thompson's competency to the Floyd County attorney, and the county attorney did not resist a request for further evaluations.
Judge Schroeder ordered another test of Thompson's competency, and that test was done by the state psychiatrist over Zoom on Oct. 8.
On Monday this week, Schroeder filed an order stating that Thompson has been found competent to stand trial, set a pretrial conference for Oct. 26 and set trial to begin Oct. 27 in Floyd County District Court.
Schroeder ordered Thompson to appear in person at the final pretrial conference and be prepared to either reaffirm his not guilty plea or schedule a plea proceeding.
In addition to the two felony charges, Thompson was charged with two counts of indecent contact with a child, aggravated misdemeanors; dissemination and exhibition of obscene materials to a minor, a serious misdemeanor; and assault with the intent to commit sexual abuse, an aggravated misdemeanor.