Posted on
Lions Club puts more than 40,000 books on sale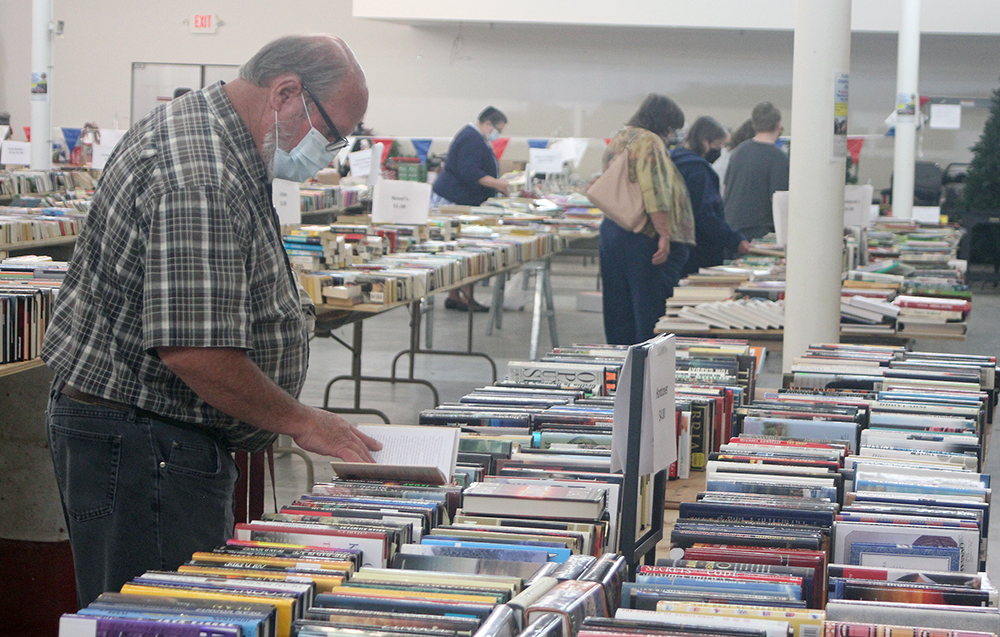 By James Grob, jgrob@charlescitypress.com
Business has been brisk this year at the Charles City Lions Club's annual book sale, which runs through Oct. 24 at the east entrance of Ace Hardware in Charles City, at 300 Gilbert St.
So far, more people are coming, and there are more books to choose from.
Esther Horvath, who has managed the sale for the Lions for about 12 years, said she thought the customer stream was so steady because people are tired of being cooped up at home.
"I know that I'm seriously grateful to be out of my house right now," she said.
Although more customers and more books means more for her to do, Horvath said she loves the hard work because it's a way to give back to the people of Charles City.
"The Lions are such a great group, All the money stays right here in the community," Horvath said. "When I first moved here things were not well for me, and this community helped me a lot. I love this community."
The book sale has been going on since 1964 and is one of the Lions Club's biggest fundraisers. Lions Club member Doug Sinclair said the event usually raises about $4,000-$5,000 each year. Last year the fundraising total was closer to $10,000. All proceeds go back to the community through Lions projects.
Among many other things, the club subsidizes hearing aids and eyeglasses for residents and children in the community, conducts free vision tests on preschoolers, and recycles about 800 eyeglasses a year which are sent abroad through Lions Club International.
Sinclair said last week that he expected to have about 20,000 books on hand this year, but Thursday he said he miscalculated — the actual number this year is more than double that, with well over 40,000 books on sale.
Horvath said the high number is the result of more people dropping off books than ever before. Prices of the books range from 50 cents to about $4.
The sale includes books about sports, science fiction, thrillers, agricultural books, animal husbandry books, westerns, home improvement, arts and crafts, music, sheet music, humor and poetry, among many other things.
"We have categories in this year that we've never had," Horvath said.
One new item at the sale this year is the inclusion of old newspapers and vintage magazines. Sinclair said that's been popular through the sale's first two days.
The sale started Wednesday, and times of the sale will be from 9 a.m. to 6 p.m. through Friday this week; Saturday Oct. 17, from 9 a.m. to 5 p.m., then, Monday through Friday, Oct. 18-23, from 2-6 p.m., and Saturday, Oct. 24, from 9 a.m. until noon.
Both Horvath and Sinclair said that people have been wearing masks and keeping a social distance without incident.