Posted on
Chautauqua outbreak part of climbing area COVID-19 cases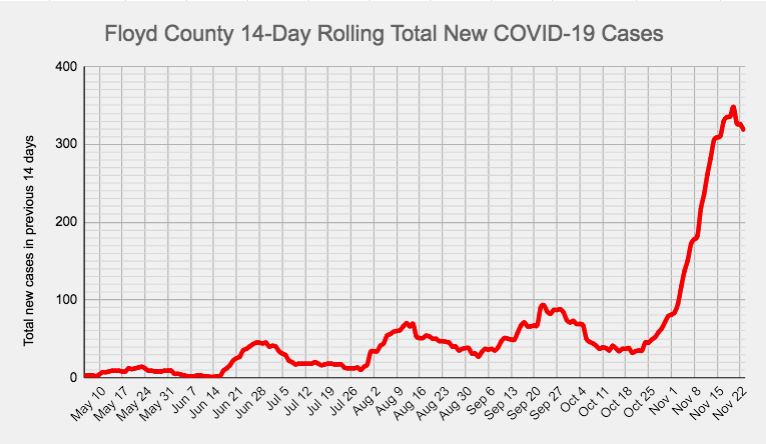 By Bob Steenson, bsteenson@charlescitypress.com
For the past two weeks an average of more than 20 new people each day have been identified as having COVID-19 in Floyd County as the county continues to set records for new cases and the percentage of tests that have been positive.
And the virus has found a foothold in the second long term care facility in the county.
The Iowa COVID-19 statistics website reported Monday that 16 cases of COVID-19 have been identified at the 11th Street Chautauqua health care facility in Charles City.
Sue Ayers, former administrator and now an infection prevention nurse at the Chautauqua Guest Homes, said that number of cases includes residents and staff.
"We ended up taking the east wing of the facility and turning that into a COVID unit," Ayers told the Press Monday afternoon. "That has dedicated staff so the staff that are caring for the COVID people only take care of COVID people and not the remaining population."
Ayers said the facility identified the cases because it is doing testing of staff and residents at its guest homes twice a week and screening multiple times a day because of the high COVID-19 positivity rate in Floyd County.
Fever, cough and shortness of breath are the "big three" symptoms, Ayers said, and anyone who exhibits just one of those is tested. In addition, they look for sore throat, loss of sense of smell, headache, fatigue and other symptoms and any two of those results in a COVID-19 test.
"If somebody tests positive, even just one person, then all of our residents and families get an update notice, just letting them know what's happening and where we're at within the facility," Ayers said.
There have also been COVID-19 cases at the 9th Street Chautauqua, but those have not risen to the level that the state considers an "outbreak," she said.
"We've had some isolated cases up to this time and we've shut them down. This time it's been a little more widespread, but they've told us considering the positivity rate in the county that's not surprising at all," Ayers said.
She praised the work of the staff in dealing with the disease.
"We have staff who have already had COVID and recovered, and those people have been very gracious about working inside the COVID unit. And we've had other staff volunteer. I don't know what we would do without our staff. They've been amazing. They have worked their hearts out," she said.
Ayers said Monday she has been told that a vaccine will be available to residents and staff in 19 days.
It had been announced earlier that the federal government has contracted with CVS and Walgreen pharmacies to distribute vaccine free of charge in long term health care facilities.
Previously the only other Floyd County long term care facility identified with an outbreak of COVID-19 cases had been the Nora Springs Care Center, which at its peak in October reported 41 cases.
As of Monday, there were 942 COVID-19 cases in Floyd County, according to the Iowa COVID-19 statistics website. If the current rate continues the county will top 1,000 cases by the end of the week.
The positivity rate — the 14-day rolling average percentage of COVID-19 tests that come back positive — has been as high as 31.6% in the last week and has not been below 20% since Nov. 4, almost three weeks ago.
More churches in the area have gone back to online services only, and a number of businesses have adopted more stringent access guidelines.
Both First Security Bank and Trust and First Citizens Bank have announced that all their branch office lobbies are closed to the public, including the branches in Charles City.
Drive-up windows will remain open during regular hours at First Security's Charles City and Hampton locations, and video banking is available from 7 a.m. to 7 p.m. at locations that have video banking.
First Citizens announced that all its lobbies are open only by appointment, but that drive-up banking and curbside banking are still available.
The Floyd County Medical Center posted on its Facebook page, "COVID-19 is now out widely in the community, you should treat every person you encounter — coworkers, patients, and neighbors alike — as if they may have COVID-19 because in fact, they may."
"The virus is believed to be contagious even before symptoms occur. That's why it's so important to always follow all preventive measures, including wearing a facemask, practicing social distancing, and washing your hands," the medical center said.
A press release from the medical center Monday addressed the demand for COVID-19 testing.
"We do not offer walk-in testing," the press release said, advising that persons wait 48 hours before being tested if they have COVID-19 symptoms.
"If you have been directly exposed to a person with COVID-19 by being within 6 feet for more than 15 minutes, wait seven days from exposure before testing," it said.
Go to the websites testiowa.com or doineedacovid19test.com to set up a testing appointment. Results have been taking 5-7 days from test.
Call your doctor's office to see if they are testing patients.
If you are a patient at the Floyd County Medical Center Clinic you may call 228-5151 to be screened for an appointment in the respiratory clinic.