Posted on
Floyd County COVID-19 cases pass 1,000-case mark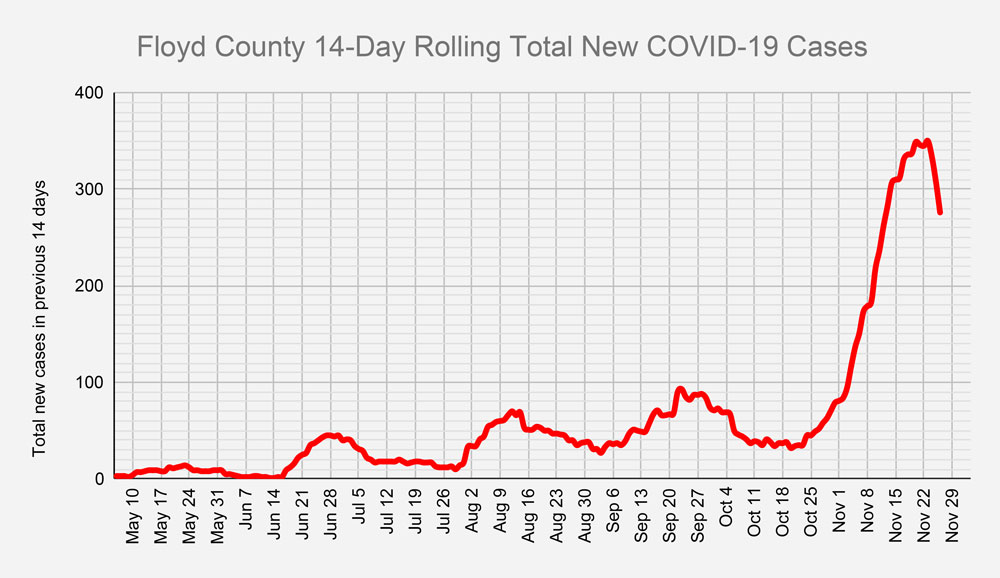 By Bob Steenson, bsteenson@charlescitypress.com
Floyd County set an ominous record this week, marking more than 1,000 COVID-19 cases since the pandemic began in the spring, and with the total number more than doubling just in November.
Revised figures from the state show the county hit 1,000 cases on Monday.
It took more than 100 days for the county to record its first 100 COVID-19 cases. It took about another month to reach 200, then a couple of weeks each to reach 300, 400 and 500.
Going from more than 500 cases to more than 600 took four days; from 600 to 700 took five days; from 700 to 800 only three days; from 800 to 900 another five days; and from 900 to 1,000 four days. In other words, it took more than six months for the first 500 cases to be recorded in Floyd County. The next 500 cases came in three weeks.
Some of that increase is because of an increased number of COVID-19 tests being taken. But the percentage of those tests that are coming back positive has also increased dramatically.
For much of the pandemic so far the 14-day rolling average percentage of tests that were positive has been in single digits. The percentage rate has been above 10% since Oct. 24, and it has been above 20% since Nov. 4, including almost a week when it was above 30%.
On Monday, the state COVID-19 data website reported the second outbreak of COVID-19 in a long-term care facility in Floyd County, reporting 16 positive test results at the 11th Street Chautauqua Guest Home in Charles City.
Former administrator and current infection prevention nurse Sue Ayers said that number includes residents and staff.
On Wednesday the number of positive test results at the care center had climbed to 25, according to the state site.