Posted on
Floyd County's first baby of the new year makes quite an entrance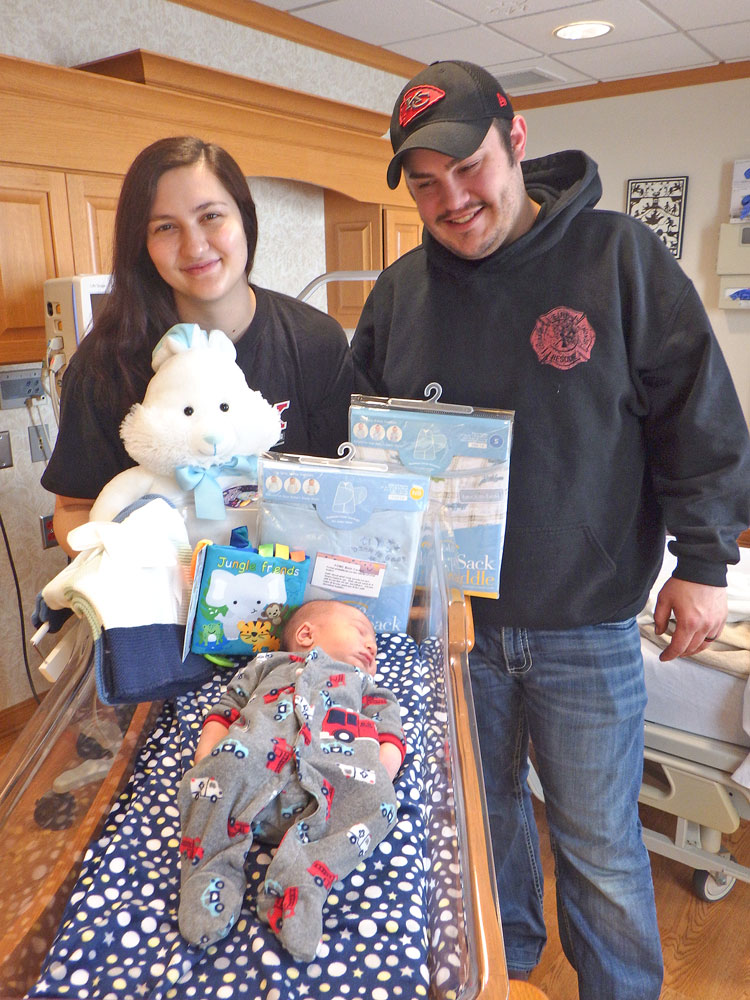 By Bob Steenson, bsteenson@charlescitypress.com
This is a good news-bad news story with a happy ending.
The bad news — Kitana and Tim Hanson of New Hampton made it only halfway to their intended destination early Saturday morning when Kitana went into labor.
The good news — that halfway point was the Floyd County Medical Center.
The bad news — the delivery took place in their car in the ambulance garage as little Jamison Daniel Hanson couldn't wait another second longer before making his entrance into the world as the first baby born in Floyd County in 2021.
The great news — mom and son are doing fine, despite the additional wrinkle of Jamison being the first baby born in Floyd County to two COVID-19 positive parents.
"We were planning Mason City, but when I went into labor it was going too fast so we only made it to Charles City," Kitana Hanson said.
"We ended up having to deliver in the car in the ambulance garage," she said. "We made it right to the hospital."
Despite the unusual circumstances, "Everything went good," Hanson said. "He's healthy."
She said she and Tim found out they were both COVID-19 positive shortly after their new son was born. She didn't know if they did a COVID-19 test on Jamison.
Judi Halbach, a certified nurse midwife at Floyd County Medical Center, said there isn't a lot of information on how babies react to COVID-19.
"They don't really know," she said. "Most babies do quite well if they get it, usually like cold symptoms, but there's still those outliers that don't do well. They don't believe it passes through the placenta."
Hanson said, "They said they didn't think there was any special concern. We're supposed to watch him just in case. They weren't sure what type of antibodies he had or how long I had it before I had him."
Rod Nordeng, medical center administrator, has said situations like the one that occurred Saturday morning are part of the reasons it's important to have a staff that's delivering babies at the Floyd County Medical Center.
"Moms will not stop having babies, and if we're not skilled and prepared for them and they show up in the ER, we're not providing appropriate service," he said. "It's what a community hospital has to do. It's the right thing to do."
Jamison, who weighed in at 8 pounds, 3.4 ounces and was 20¾ inches long, was delivered by Dr. David Schrodt at 6:59 a.m. Saturday, Jan. 9. He joins a sister, Evelyn, and a brother, Carson.