Posted on
Charles City Middle School drama production goes digital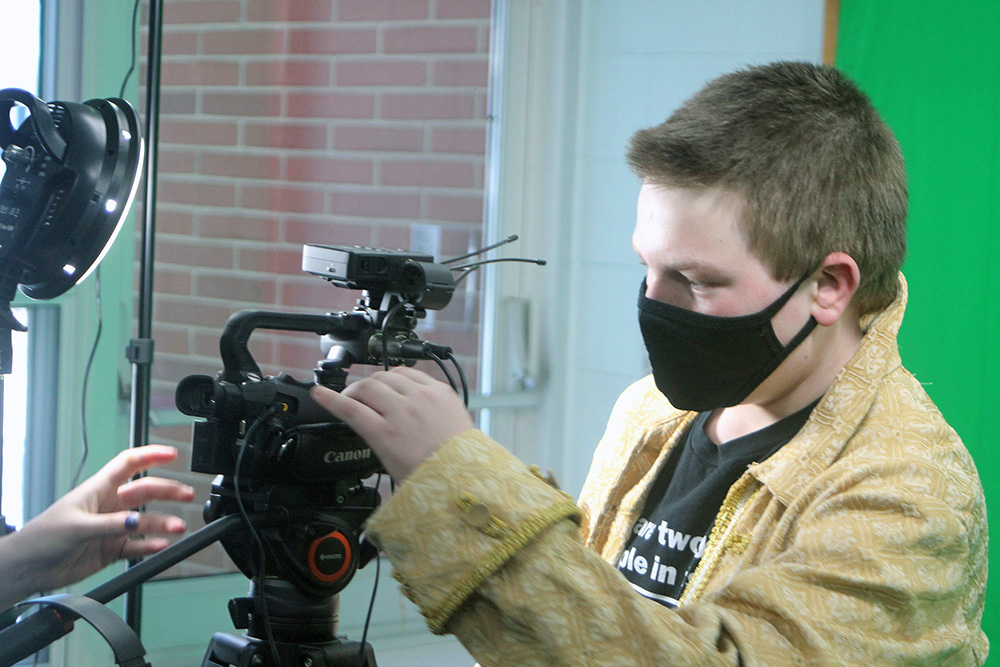 By James Grob, jgrob@charlescitypress.com
The Charles City Middle School drama production is going to look a little different this year. The show won't be on stage at all — it will be on screen.
The actors are recording each scene separately in front of a green screen, and a group of students is designing digital backdrops, which will be plopped into the recording during editing. The work is being done at Lincoln Elementary.
Marie Conklin, CCMS drama director, had a normal show all planned out, just like she does every year. Because of COVID-19 precautions, however, auditions were postponed, then postponed again. Conklin soon learned that if they were going to have a show, the hurdles placed by COVID mitigation would make it almost impossible to perform the way a show is typically performed.
So Conklin ordered three green screens, and she and the students did a lot of research together to learn how to use them.
"The show is actually designed to be presented on ZOOM, but one of the things we're working on at school is producing high-quality video," Conklin said. "I decided to look into using the video equipment we had for that."
The production will be "Mirror, Mirror, On The Wall," written by "fractured fairy tale" playwright Brian D. Taylor. The play is written specifically for rehearsing and performing remotely. The plot is a combination of familiar fairy tale stories placed together in one narrative, as ambitious "magic mirrors" pull everything together. Characters include Cinderella, Snow White, Rapunzel and many others from children's storybooks.
The show won't be presented on stage, but the video will be released sometime in April. It will be uploaded to YouTube and shared "far and wide," according to Conklin.
"A lot of it will boil down to how long it takes us to edit," Conklin said. "We're learning to do a lot of this as we go."
Conklin said she wants the production to be as student-produced as possible.
"One of the things that has excited me the most is, the kids are taking more ownership in the show," Conklin said. "With this approach, they work on their own scenes and develop them on their own."
The high-tech, digital approach is also bringing some students into drama who might not have otherwise been interested. Kaden Barnish, one of the "tech-hands" on the play, was operating a camera at rehearsal on Tuesday. He said he and the rest of the tech crew need to arrive early to set things up.
"It's my first year of doing this, and I kind of like it," said Barnish, who is an 8th-grader. "It's been a good experience. I've learned a lot about cameras and audio and microphones."
Conklin said the entire process has been a positive experience for everyone involved.
"It's fun, because we're all learning together," Conklin said. "Sometimes the kids know a heck of a lot more than I do."
Charles City Middle School Drama Production
Mirror Mirror On the Wall
Cast List
Evil Queen — Savana Baldus; Magic Mirror — Addison Tracey; Rapunzel — Isabella Knecht; Prince Dashing — Andrew White; Witch's Voice — Brandy Bettesworth; Beauty — Natalie King; Gasdumb — Blake Hoeft; Beast — Lucias Thompson;; Stoatia — Brandy Bettesworth; Ermine — Fiona Pittman; Weasetta — Katie Heckers; Stinky — Jasmine Troge; Glammy — Camillya Jones; Pigsty — Neveah Jensen; Speedy — Gracie Opp; Sluggy — Ella Jones; Bouncy — Alexuz Ohlendorf; Blingy — Norah Massawe; Cinderella — Annabel McDonalad; Fairy Godmother — Brynn Roethler; Butterscotch — Evelyn Read; Jack — Thane Howlett; Jack's Mother — Emilee Sande; Gretel — Lylah Walsh; Father — Rylee Beaty; Rumpelstiltskin — Nyna Walsh; Miller's Daughter — Kayla Streich; Prince Charming — Blake Hoeft; Snow White — Adeline King; Prince Impeccable — Jonah DeVore.
Backstage, Tech Crew
Jenna Aikey, Kaden Barnish, Jonah DeVore, Natalie Keyes, Danika Barrett, Kirsten Kirsch, Kamie Griffen, Julie Foster.