Posted on
Carolyn Kay Koll
Carolyn Kay Koll, 82, of Marshalltown, passed away on Tuesday, Nov. 17, 2020 at her home surrounded by her loving family.
Due to the current COVID limitations, a Celebration of Life for Carolyn will be held at a later date. In lieu of flowers, memorials may be directed in Carolyn's name to the Iowa River Hospice Home in Marshalltown. For more information or to send a condolence, please visit www.mitchellfh.com or call 641-844-1234. Mitchell Family Funeral Home is caring for Carolyn and her family. The family would like to extend a special "Thank You" to the staff at the Iowa River Hospice Home for the care that they provided for Carolyn and her family, especially to Amy and Angie.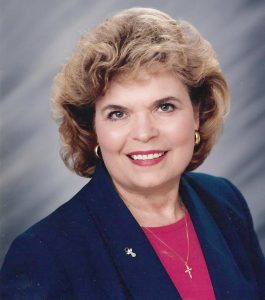 Carolyn Kay Hagarty was born on July 14, 1938 in Charles City, Iowa to Louis A. and Delma Dugan Hagarty. She graduated from Immaculate Conception High School in 1956. After high school, she received her training in nursing from the Deaconess Hospital from 1956 until 1958. Carolyn went on to Iowa City and was a scrub nurse for a year. On Sept. 12, 1959, Carolyn was united in marriage to Bruce M Koll in Charles City. While Bruce served in the military, Carolyn worked as a scrub nurse in Lawton, Oklahoma. Bruce was stationed over in Japan from 1960 until 1961, and when they came back to the states, Carolyn worked from 1963 until 1993 at Fidelity Bank and Brenton Bank. She then went on to be one of the founding members of New Horizons Realty and retired from there in 2013. Carolyn enjoyed playing bridge, planting flowers and baking. She also knew no stranger and welcomed everyone. Family was a huge part of her life and she loved them more than anything. She always looked forward to the holidays and other gatherings when they could all get together. Carolyn was the "glue" that held her family together.
Carolyn is survived by her loving husband of 61 years, Bruce. Her children: Michael (Kendra) Koll of Maquoketa, Mary (Greg) Oetker of Marshalltown, David (Cyndi) Koll of Omaha, Debbie (John) Fuller of Marshalltown, Madonna (Ron) Mitchell of Marshalltown and Matt (Lisa) Koll of Waukee. She is also survived by her eighteen grandchildren; ten great grandchildren; siblings: Louis L. (Barbara) Hagarty of Waterloo, Robert (Diane) Hagarty of Newton, Thomas (Amy) Hagarty of Charles City, LaVonne (Curtis) Biggar of Appleton, Wisconsin, Ruth (Art) Hunt of Charles City, Geraldine (Craig) Lynch of Charles City, Judy (Don) Olejniczak of Charles City, Jane (Tom) Offerman of Charles City and Jean (Bill) Holscher of Ankeny and sisters-in-law: Jolene Hagarty of Charles City, Rosalie Hagarty of Bellevue, Nebraska and Deanna (K.C.) Johnson of Marshalltown.
Carolyn is preceded in death by her parents: Louis and Delma; siblings: Theresa Rose in infancy, Paul Hagarty, Joseph Hagarty and her mother and father-in-law: Cliff and Lois Koll.