Posted on
Community Notes – Wicks: Ready to make things happen?
By Mark Wicks, Charles City Community Development Director
Ready to make things happen?
So, I think most of us will agree that the majority of 2020 has pretty much sucked. It happened, can't do a whole lot about it. We have to deal with it and move forward.
Bad things happen sometimes that are out of our control. It's not fair, but it's life. This isn't the first time and it certainly won't be the last. (Feel free to add any other cliches.)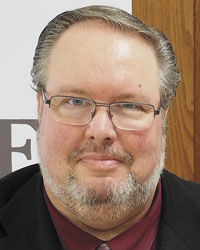 You know what is in our control? How we react and move on. With any big body blow, you have a choice of laying down and quitting, or getting back up and keep fighting.
If you give up, you have an excuse to lean on, but odds are things won't get any better for you. You are accepting that whatever happens will happen and you will just lay there and take it. You are giving up your control over making something good happen.
Now, if you get back up and fight on, there is no guarantee in life that something good will happen either. However, your odds will go up a lot higher.
There is a better chance of something good happening because you are doing something to try and make it happen. You have control over that much. Most things just don't happen all by themselves, good or bad. Someone usually did something to make it happen.
That's the story behind the Community Revitalization program in Charles City — volunteers who wanted to see good things happen got together and helped make it so.
The recreational trail, public art, community beautification efforts, Party in the Park, building improvement incentives, holiday decorations — they were all made possible because a few people stood up and said, "Let's make this happen!"
The same on the Chamber of Commerce side with things such as the Fourth of July Celebration, retail events, Whitewater Weekend, tourism efforts, the Santa House and more. They don't just magically happen. A group of people got together and did something to make them happen.
Sure, COVID-19 is making things more difficult right now. Life won't always make things easy for us, but we can get back up and fight on. We have adapted with Zoom video meetings, protective masks and social distancing.
We may have to find some new ways of doing things, but we can still make good things happen in our community
Take the Spookwalk Committee, for example. The pandemic safety protocols are making the traditional format of walking along the riverfront trail and going from treat station to treat station unrealistic. However, the volunteer committee adapted and has come up with a drive-thru version of Spookwalk so that our kids and families can still enjoy some seasonal community fun.
From 5:30-7:30 p.m. on Thursday, Oct. 29th, families can drive their children through the designated route along North Jackson Street from the Main Street bridge corner to the end of Central Park to enjoy various decorations, displays and costumed characters. At the end of the route each child in the vehicle will receive a treat bag.
Also that evening, the nursing homes and assisted living facilities in town will offer treats to children in costume who stop by and walk past the front windows.
COVID-19 is keeping those facilities from opening their doors for trick-or-treating this year, which is very disappointing to the residents there who look forward to it. So we adapted and as part of Spookwalk the residents can still see the kids out the windows and the kids can still get treats for visiting.
The Party in the Park Committee is also making something good happen despite a bad situation after the 2020 PIP season was cancelled. That committee has decided to organize a pop-up drive-in movie night for the community, where people can enjoy something fun and different while staying safely social distanced in their vehicles.
There will be a family double feature shown at the high school parking lot starting at 7 p.m. Saturday, Oct. 17th. Come and enjoy "The Goonies," followed by "ET – The Extra Terrestrial." Admission is a freewill donation in support of Community Revitalization and concessions will be available.
These are just a few examples of people deciding to make something good happen even during a difficult time.
Are you ready to help make something happen? It all starts with standing up and saying, "I'll help."
That doesn't mean you have to do everything all by yourself or that you will have to commit a ton of time and effort. How much you put in (and get out of) volunteering is up to you. You have that control.
To make something happen, though, does take a little effort on your part. Otherwise don't expect much, if anything.
Both Community Revitalization and the Chamber welcome (and thrive on) volunteer support. If you are interested in helping to make a difference, please contact me at the Community Development Office, 401 North Main St., (641) 228-2335, or email mark@charlescitychamber.com.