Posted on
Trever Heitz becomes Comets' all-time rushing leader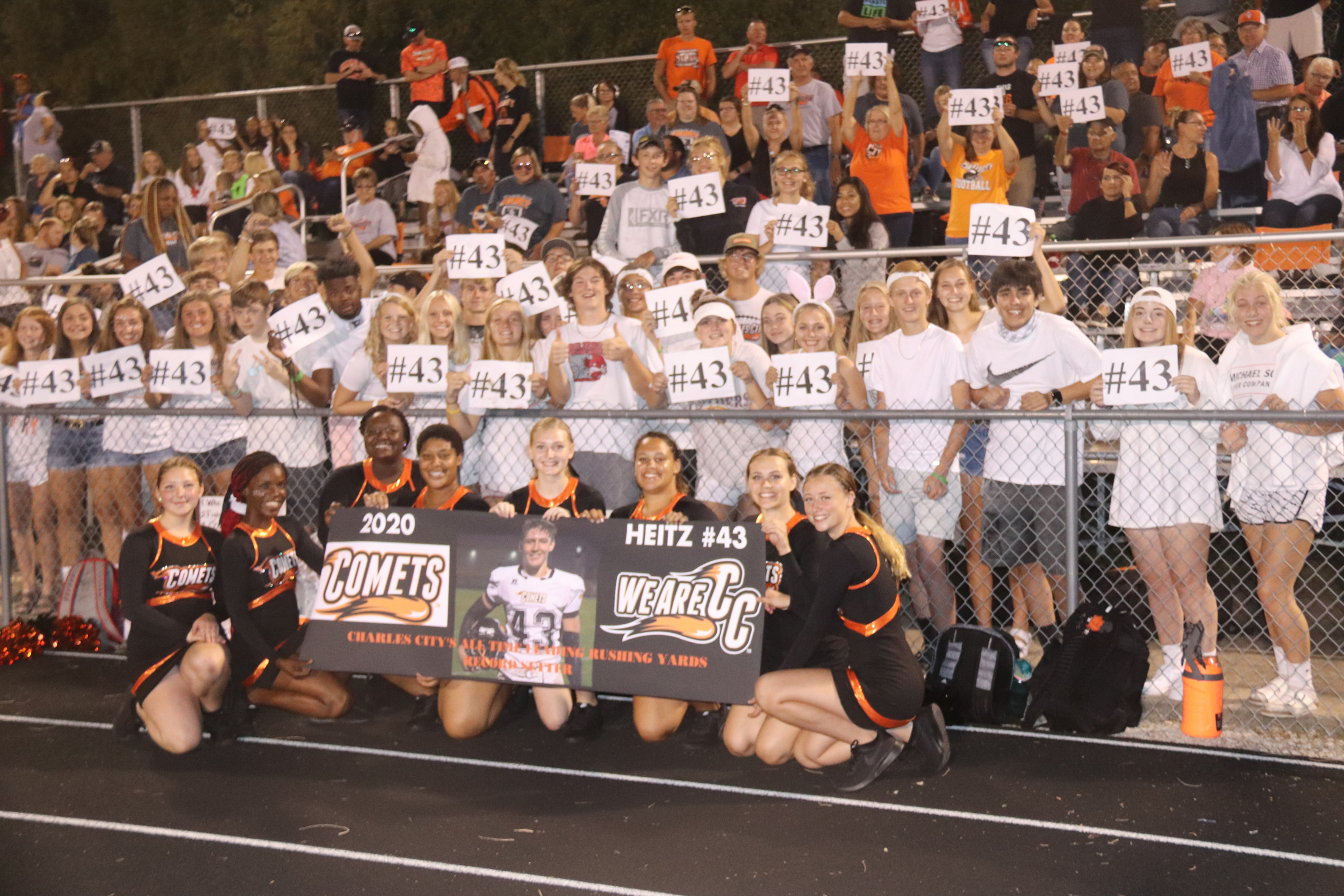 By John Burbridge
sports@charlescitypress.com
NEW HAMPTON — It was second effort that propelled Trever Heitz to the top of Charles City's all-time career rushing list.
It was also second effort that helped preserve the Comets' chances for a comeback late into Friday's game against New Hampton.
First, the record-breaking run.
"It was a play we hadn't run in a long time, so it was a little messed up," Heitz said of the counter, which resulted in him being stood up just beyond the line of scrimmage.
Somehow, Heitz was able to shed several would-be Chickasaw tacklers, and suddenly he was on the run again.
"You just get through the first level and then work your way into the second," Heitz said of his 31-yard run.
Heitz went into the game needing 36 yards to surpass Taylor Fiser's all-time total of 1,863 yards. With a little more than 15 yards already accumulated during the Comets' first two drives, Heitz's second-effort burst put Fiser in the rearview mirror well before halftime.
But there was still a game to be played. And deep into the fourth quarter, the Comets were trailing the Chickasaws 15-0.
With 5:26 left in regulation, the Comets finally reached paydirt with Heitz burrowing himself across the goal line from 3 yards out on a fourth-and-goal snap. For the subsequent conversion, Charles City opted for the 2-point variety. Again, Heitz's number was called, and again he was bottled up near the line of scrimmage.
If Heitz and the Comets had been stopped short, Charles City's chances for a come-from-behind victory would have been virtually nil with them being two possessions behind and time not an ally.
But Heitz, with the help of his linemen pushing ahead as well as pushing from behind, was able to move the mass of humanity (as well as the ball) over the goal line to keep the Comets in the game.
"I kept my feet moving and I got a lot of help from my teammates," said Heitz, whose team nonetheless lost 15-8.
Heitz finished the night with 95 yards on 14 carries. He had a 40-yard-plus run nullified due to a motion penalty.
After becoming the first Comet sophomore to rush for 1,000 yards and following up with an All-District First Team performance his junior year, there seemed to be nothing in the way of Heitz eventually earning his record-book distinction his senior season.
Be careful of what you don't wish for.
Though likely the Chickasaws or even the Union Community Knights (Sept. 4 at Comet Field) or the defending Class 3A champion Western Dubuque Bobcats (Sept. 11 at Comet Field) weren't going to stop Heitz short, a worldwide pandemic was posed to be a much more formidable run stuffer.
But even with the grave possibility of there not being a high school football this fall, and all the local gyms and school facilities being shut down for much of the offseason, Heitz prepared for the season like it was going to happen by fully utilizing the makeshift gym he helped build at his home.
"I'm very grateful for the opportunity to be able to do this my senior year," Heitz said.