Posted on
Go Hawks too much for Comets 49-7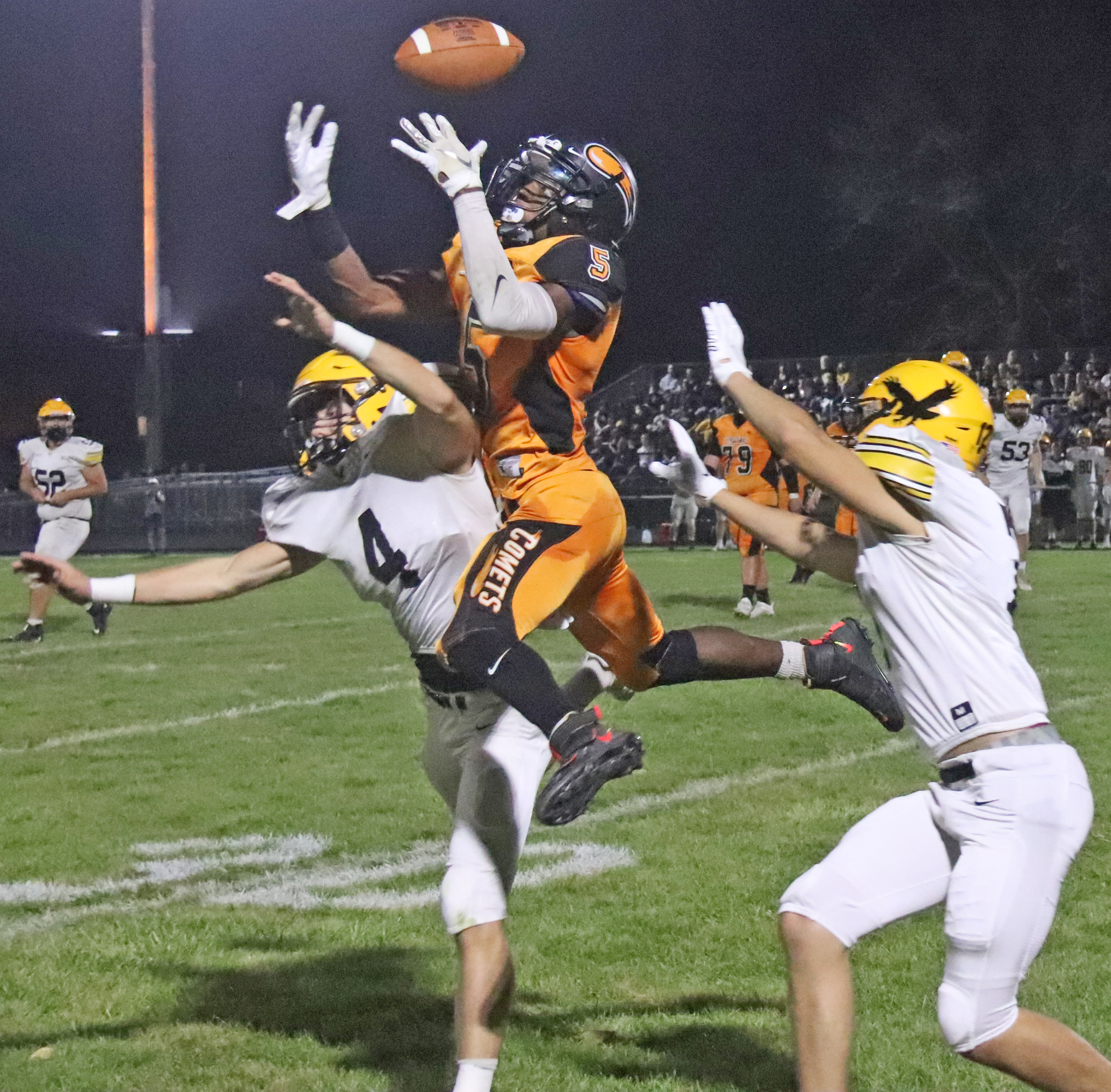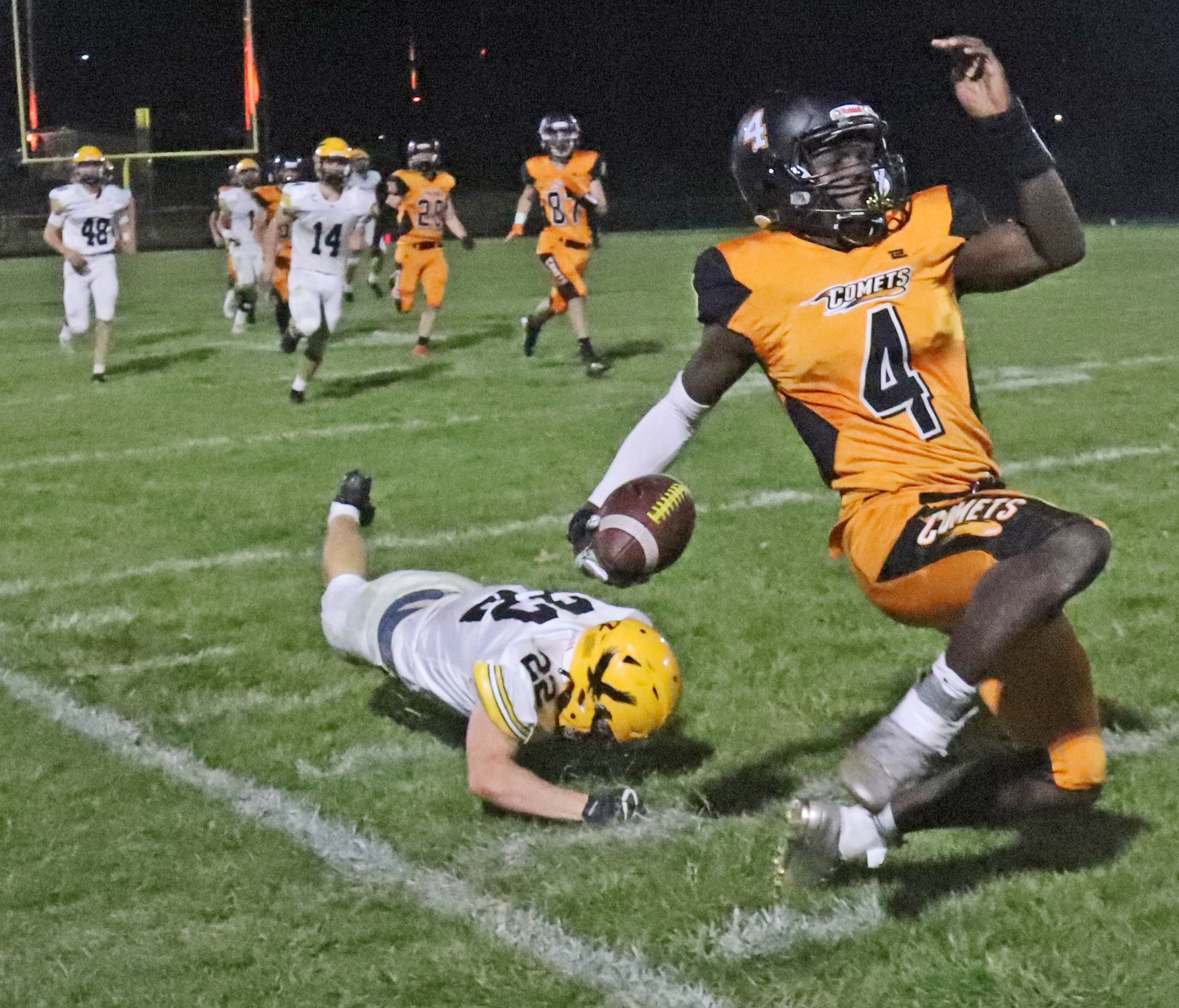 By John Burbridge
sports@charlescitypress.com
CHARLES CITY — It's not over until it's over
Though Waverly-Shell Rock ended Charles City's pandemic-plagued regular season with a thorough 49-7 road victory last Friday keeping the Comets winless (0-5) thus far, Charles City will play in the postseason for the first time in five years when it travels to take on Wahlert Catholic (4-2) next Friday (Oct. 16) at Loras College in Dubuque
Waverly-Shell Rock (4-3) will take on defending Class 3A champion Western Dubuque in its first round game — the two teams met earlier in the regular season with the Bobcats winning 28-9.
In the regular-season finale, the Go-Hawks amassed 423 rushing yards.
Leading the way was sophomore Asa Newsom, who had 168 yards on just 11 carries including two touchdowns.
McCrae Hagarty, another Go-Hawk sophomore, had 93 yards on nine carries, and senior Jonathan Wessel scored twice in the second half to help cap the scoring.
With breakneck efficiency, the Go-Hawks needed only a little more than a minute to drive 64 yards on the opening possession to start the scoring with Jack Kramer following and setting up his blockers for a 19-yard TD.
Charles City responded with an impressive drive of its own spanning 80 yards and ending with Trever Heitz scoring from 1 yard out.
The drive was kept alive with a spectacular circus catch from Mario Hoefer on a 32-yard pass from Alec Staudt. Hoefer had several other outstanding catches during the game while compiling 58 receiving yards, and also had an interception in the end zone
Heitz also had a productive night with 98 yards on 18 carries.
The Comets came into the game banged up with several key players — especially on the defensive side of the ball — out of action. The Go-Hawks took advantage as they didn't have to punt all night, though they did turn over the ball on downs late in the game after failing to convert on a fourth-and-three snap deep in Comet territory.
Charles City's injuries opened up some playing time, and several Comets took advantage.
Landon Luft led the Comets' defense with 9 solo tackles.
Tino Tamayo had 8 solo tackles for the Comets.
WAVERLY-SHELL ROCK 49, CHARLES CITY 7
Scoring By Quarters
WSR 14 21 7 7 — 49
CC 7 0 0 0 — 7
Scoring Summary
WSR — Jack Kramer 19-yard run (Simon Ott kick) 10:43 1st, 7-0
CC — Trever Heitz 1-yard run (Alec Staudt kick) 6:36 1st, 7-7
WSR — Asa Newsom 3-yard run (Ott kick) 3:36 1st, 14-7
WSR — Ryan Folkerts 16-yard run (Ott kick) 9:33 2nd, 21-7
WSR — Newsom 18-yard run (Ott kick) 3:38 2nd, 28-7
WSR — Layne McDonald 22-yard interception return (Ott kick) 3:10 2nd, 35-7
WSR — Jonathan Wessel 3-yard run (Ott kick) 4:26 3rd, 42-7
WSR — Wessel 4-yard run (Ott kick) 5:30 4th, 49-7
RECORDS: Charles City 0-5; Waverly-Shell Rock 4-3