Posted on
Kiki Connell shatters school record with second-straight SQ title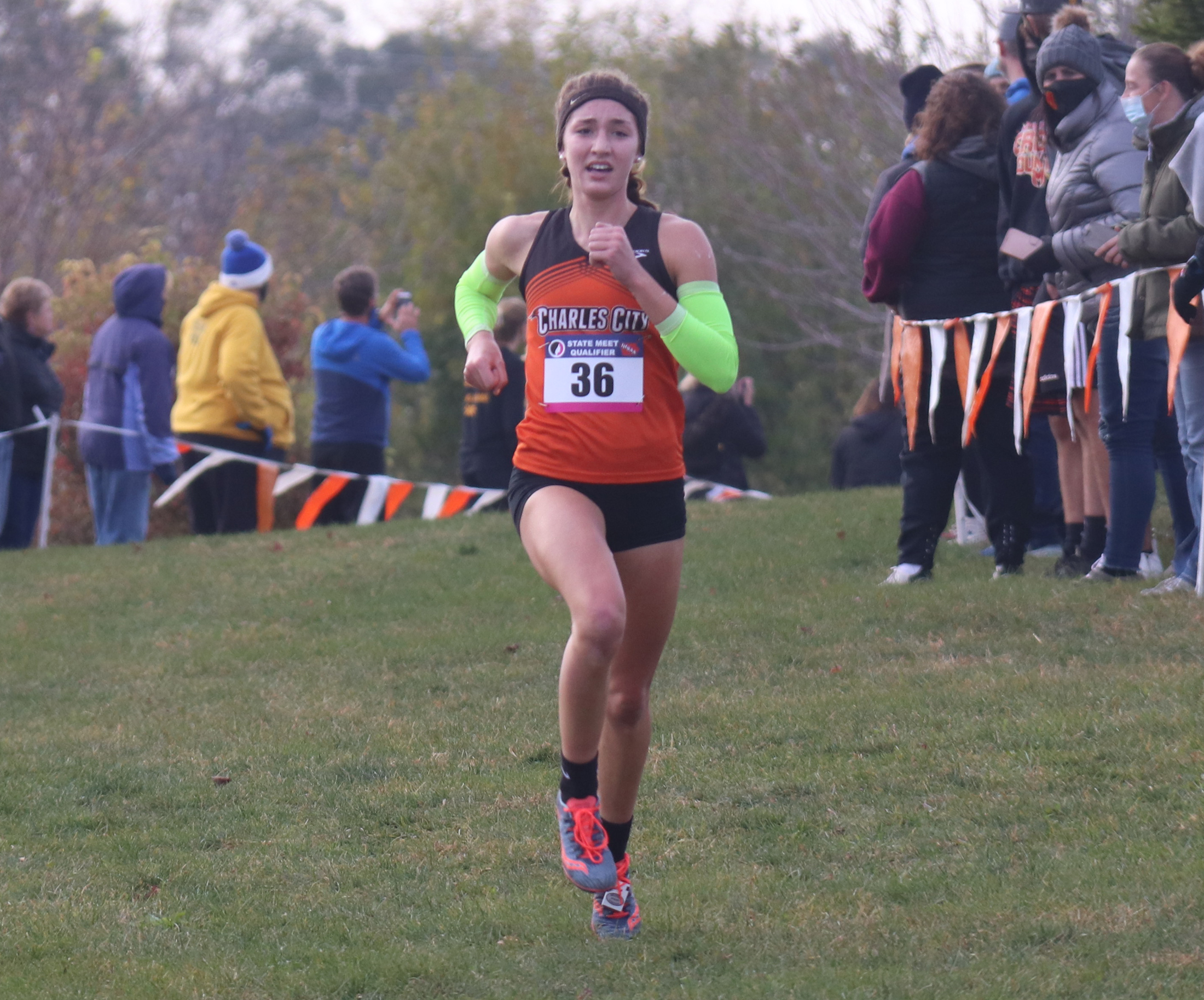 By John Burbridge
sports@charlescitypress.com
WAVERLY — You can say this about Kiki Connell … she sure is getting ready for wrestling season.
But until the Charles City senior can start grappling in earnest, she still has at least one more high school cross country race to deal with.
That would be the State Championships which Connell qualified for the fourth year in a row with a stunning 5K time of 17 minutes, 57 seconds to win the girls varsity race at the Class 3A State Qualifier at the Wartburg Max XC Course on Wednesday
It was the first time the Comet standout got under 18 minutes during her prep career. It also obliterated a personal-record as well as Charles City's school record by more than 32 seconds.
As of Thursday, Connell's time at the SQ is the fourth fastest 5K recorded by a girl in all classes in the state this season.
Getting under 18 minutes in the 5K has always been one of Connell's main goals as a XC runner. But even she admits it was one of those "Shoot for the stars and you might hit the moon" type quests.
"It was something I always wanted to do," Connell said after the race, "but I was setting my sights high … I didn't know if I was going to actually do it."
Competing in one of the most competitive qualifiers in the state, Connell set the pace early with a 5:36 first mile. Then she picked up the pace even more, leaving some of the fastest runners in the state — Decorah's Rebecca Anderson (2nd, 18:24), Waverly-Shell Rock's Emma Hoins (3rd, 18:34) and Iowa Falls-Alden's Ellie Myer (4th, 18:36) — well behind.
"The last race I ran was a little long," Connell said of the Northeast Iowa Conference Meet which, like the SQ, she won for the second year in a row, "so that may have helped me with this race which is a real 5K."
Connell may have surprised herself with her record(s)-shattering time, but Charles City head coach Amanda Rahmiller expected it.
"I knew she was capable of getting under 18," Rahmiller said. "She approached this race like it was the state championship."
Connell has been the Comets lead runner since her freshman season, which she capped by finishing sixth at the state meet while running most of the race with one shoe. Her sophomore season was lackluster by her standards, and Connell feared that she — like so many upstart underclass female runners — may have peaked too early.
But Connell upgraded her training in the offseason leading up to her junior year while working more on her upper-body strength to help pump the air and blood-flow to her legs.
That helped her get back up to speed and then some as Connell went on to set her initial school record while winning her first NEIC title before placing eighth at the state meet with a faster time than her previous sixth-place state performance.
It was when Connell decided, almost on whim, to go out for the Comets' fledgling girls wrestling team last fall eventually helping Charles City place second at a state girls wrestling tournament, that her athleticism and conditioning ascended yet another level.
During this season, Connell has consistently been a "lonely runner" by the way she ditches the pack midway through the race. Unfortunately, Connell will be an even more lonely runner for the Class 3A Girls Race, Oct. 30 at Lakeside Municipal Golf Course in Fort Dodge. For the first time in her Charles City career, Connell will not be accompanied by any of her teammates on the course.
Junior Lydia Staudt, a two-time individual state qualifier, and senior Libbie McKeag, who also has state meet experience, crossed the finish line almost simultaneously with respective 20th- and 21st-place finishes as the next Comets in. The Top 15 qualify as individuals.
Charles City's 109 team points placed it fifth amid the 12-team field — the Top 3 teams qualify.
In a rather rare occurrence, Decorah, Waverly-Shell Rock and Center Point-Urbana all posted team-point scores of 81 but respectively finished first, second and third due to sixth-runner tiebreakers.
* Connell was not the only Comet to record a PR time on Wednesday.
Senior Alex Bauer's personal-best time of 17:29 is the fastest 5K time run by a Charles City runner this season. It was good enough for 26th place in the boys varsity race.
The Comets finished eight among 13 teams with 216 team points.
Eli Larson first-place time of 15:40 helped Center Point Urbana win the boys race with 54 team points.
Marion was a close second (55) led by runner-up Shane Erb (15:50).
Decorah (63) and Viking senior Brady Hogan (15:55) both seized third spots.
Class 3A State Cross Country Qualifier
Oct. 21, 2020
AT WARTBURG MAX XC COURSE
Varsity Girls 5K Race
Final Team Standings
(Top 3 Teams Qualify)
1. Decorah 81*, 2. Waverly-Shell Rock 81*, 3. Center Point-Urbana 81*, 4. Benton Community 106, 5. Charles City 109, 6. Iowa Falls-Alden/AGWSR 129, 7. Marion 134, 8. South Tama 256, 9. Vinton-Shellsburg 264, 10. Independence 271, 11. Webster City 278, 12. Clear Lake 304
* Tiebreaker determined
Top 15 Individual Qualifiers
1. Kiki Connell (CC) 17:57, 2. Rebecca Anderson (D) 18:24, 3. Emma Hoins (WSR) 18:34, 4. Ellie Meyer (IFA) 18:36, 5. Lydia Mass (Hampton-Dumont-CAL) 18:46, 6. Kora Katcher (CPU) 19:25, 7. Kay Fett (CPU) 19:45, 8. Madison Prier (M) 19:52, 9. Teah Miller (IFA) 19:56, 10. Sydney Bochmann (WSR) 19:57, 11. Peyton Steffen (M) 20:03, 12. Emma Wilkerson (CPU) 20:11, 13. Hailee Ricklefs (BC) 20:14, 14. Abby Hardin (IFA) 20:23, 15. Jaden Thys (BC) 20:31.
CHARLES CITY — 1. Connell, 20. Lydia Staudt 20:58, 21. Libbie McKeag 20:59, 26. Brianna Ross 21:07, 45. Lauren Staudt 22:32, 46. Lydia Thompson 22:36, 59. Natalie White 23:51.
Varsity Boys 5K Race
Final Team Standings
(Top 3 Teams Qualify)
1. Center Point-Urbana 54, 2. Marion 55, 3. Decorah 63, 4. Waverly-Shell Rock 88, 5. Clear Lake 128, 6. Webster City 164, 7. Benton Community 213, 8. Charles City 216, 9. Vinton-Shellsburg 278, 10. South Tama 282, 11. Iowa Falls Alden/AGWSR 301, 12. Hampton-Dumont-CAL 335, 13. Independence 346
Top 15 Individual Qualifiers
1. Eli Larson (CPU) 15:40, 2. Shane Erb (M) 15:50, 3. Brady Hogan (D) 15:55, 4. Luke Post (CPU) 16:07, 5. Jadidiah Osgood (M) 16:16.21, 6. Mason Bach (CPU) 16:16.27, 7. Justin Wright (CL) 16:38, 8. Nick Kepford (WSR) 16:40, 9. Blake Roling (M) 16:41, 10. Noah Lovelace (D) 16:46, 11. Jakob Regennitter (M) 16:47, 12. Andrew Cummer (WSR) 16:55, 13. Tommy Tyynishmaa (ST) 16:55.58, 14. Hogan Smith (D) 16:55.87, 15. Ethyn Chestnut (WSR) 16:55.98.
CHARLES CITY — 26. Alex Bauer 17:29, 37. Jared Johnson 18:09, 50. Zach Graeser 18:41, 51. Clayton Rand 18:42, 52. Isaac Thompson 18:42, 66. Drew Staudt 19:12.