Posted on
Comets seniors finish XC careers with PRs; coaches excited about future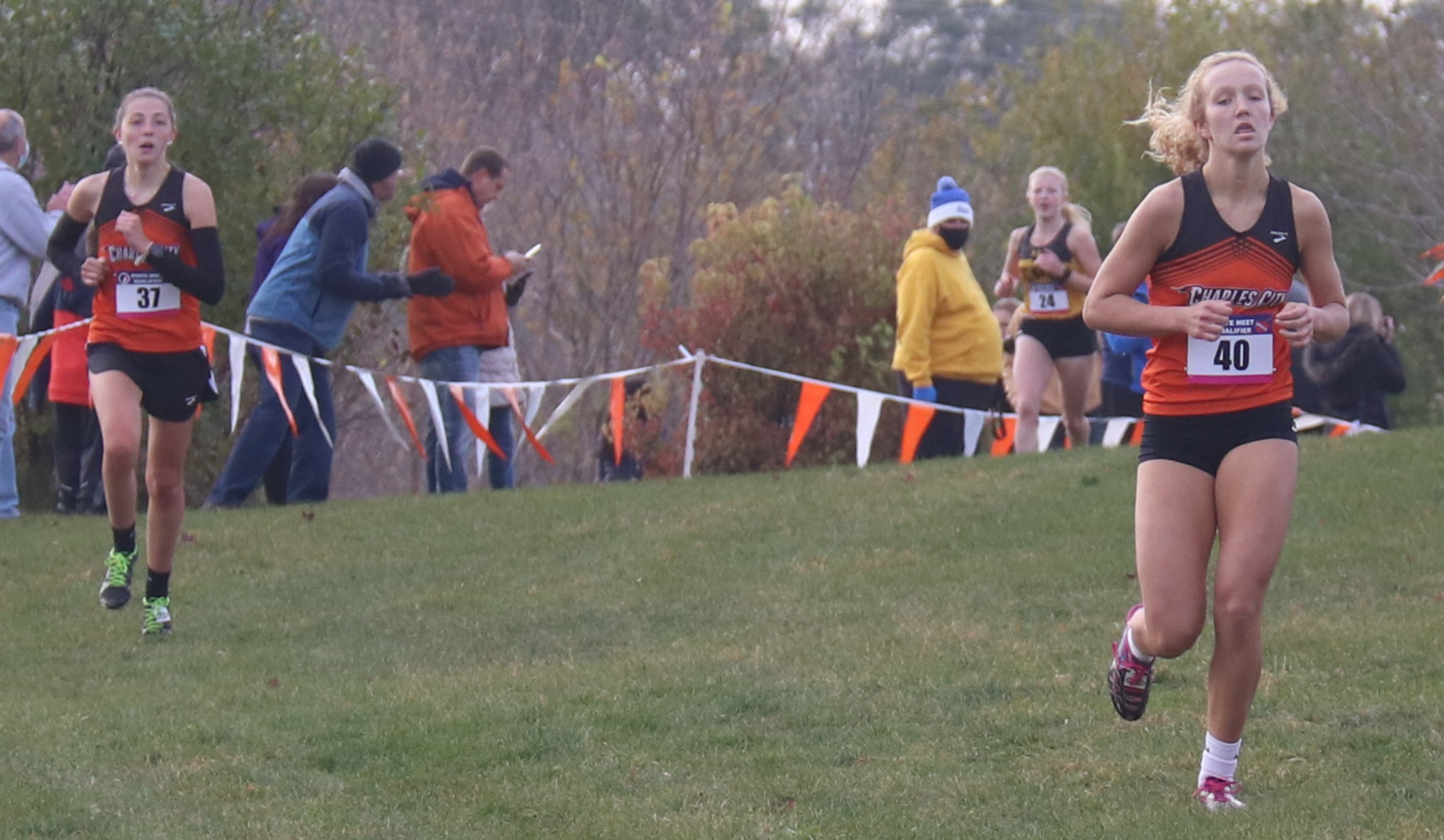 By John Burbridge
sports@charlescitypress.com
For this weekend's State Cross Country Championships, Charles City will have a lone representative in senior Kiki Connell, who will compete in the Girls Class 3A Race, Friday at 3:30 p.m. at Lakeside Municipal Golf Course in Fort Dodge.
Connell shattered her personal-record in the 5K as well as the Charles City school record — which Connell set last year — by more than 32 seconds (17 minutes, 57 seconds) while winning her second straight state qualifier race.
Connell has medaled twice in Fort Dodge — sixth as a freshman; eighth as a junior — and she's due to go up against a fast field on Friday as Ballard sophomore Paityn Noe, one of only five Iowa girls who have posted faster times than Connell this season, will be in the girls 3A race.
Though Connell is amidst capping an outstanding XC career at Charles City, Comet head coach Amanda Rahmiller cited several other of her seniors who finished their careers on fast notes.
"Seniors Libbie McKeag and Brianna Ross saved their best races of their careers for the finale and ran personal records by each knocking close to a minute off apiece," Rahmiller said. "They also solidified their names in the Top 15 5K Runners at Charles City in spots 12 and 14, respectively."
McKeag finished 21st at the state qualifier held last Wednesday at Wartburg's Max Cross Country Course, just behind junior teammate Lydia Staudt, who placed 20th.
McKeag, Ross and Staudt all have run at the XC state meet before with Staudt being a two-time individual qualifier. But with only the top three teams qualifying at the SQ — Charles City was fifth — as well as the top 15 individuals, they fell short of accompanying Connell.
Rahmiller believes Staudt, who had been battling an iron deficiency malady during the season, will have more fuel for her fire during the subsequent winter, spring and summer sport seasons and will be back to topnotch form for her final XC season.
Rahmiller is also excited about the pending return of another Staudt.
"Freshman Lauren Staudt had about a 45-second personal-best and got to learn a lot this season on the varsity squad running with her sister and the seniors," she said. "She's got a bright future on the horizon and will take away some very valuable knowledge."
Rahmiller said one of the biggest surprises this season was the emergence of Natalie White.
"Natalie joined us after finding a love for running over the period of quarantine," Rahmiller said. "She used it as a stress reliever and decided she liked it so much she would try cross country. It's been touching seeing her experience success and medaling in the junior varsity races; for her to get the chance to compete in a state qualifying meet was a big deal."
Among the other departing seniors for Charles City, Lydia Thompson capped off her career with a season best … "It's been fun to see her evolve these past two seasons and turn herself into a varsity level runner," said Rahmiler, who also mentioned that pending graduates Rylie Patrie, Gillian Anderson and Mandi Sande "all played a valuable role on our team as well … the wisdom they all left our underclassmen goes beyond their years and for that, I am forever grateful."
* After the graduation of a talented and intrasquad competitive senior class several years ago, Charles City boys XC head coach Ryan Rahmiller has been looking for that runner who can consistently "get under 17".
Senior Alex Bauer, who emerged as the Comets top runner in his final season, was the closest in getting under that bar when he recorded a 26th-place time of 17:29 at the state qualifier.
"Alex has had a goal to be in the low 17s and ran exceptionally well," Ryan Rahmiller said.
Though, like the Comet girls, Charles City's boys fell short of advancing to Fort Dodge, Rahmiller said that he "was thrilled with the way our boys ran (at the state qualifier). Our goal going in was to finish the season on the highest note we could, and I felt we did just that.
"Zach Graeser and Clayton Rand ran season-best times," Rahmiller said. "Zach, in particular, has struggled to get past that '19 minute mark' and really ran inspired. Clayton ran a smart race last night and has done a good job, with the help of our assistant coach, Jenna Haglund, to overcome some mental aspects of his race this season. He's a talented runner and the best is yet to come."
In addition to Bauer, Comets Jared Johnson, Isaac Thompson and Drew Staudt all recorded personal-best times at the SQ.
"I was so happy to have Drew Staudt run this SQM," Rahmiller said. "He's come a long way in his cross country career and deserved this opportunity.
"Jared and Isaac are going to 'runners to watch' next season. Jared has overcome some nagging injuries and I think has found a good balance with rest to be where he wants to be. Isaac is just getting started. For a freshman, he's got a lot of running and racing intelligence and a variety of gears he can go to in his race. He gained some valuable experience this season as a freshman. Experiencing the state qualifying meet is a big deal."