Posted on
Comets finding innovative ways to knock down tenpins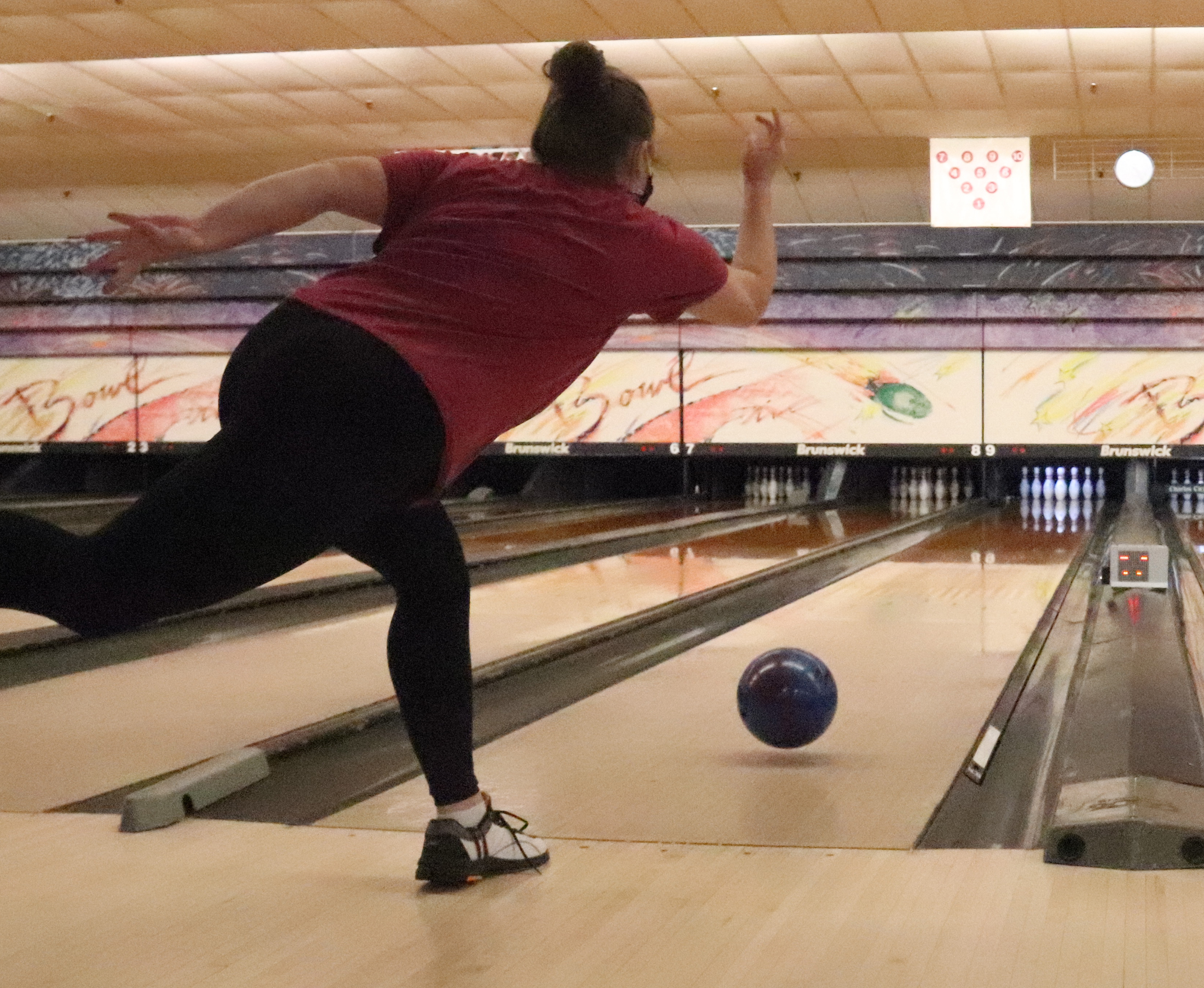 By John Burbridge
sports@charlescitypress.com
CHARLES CITY — Bowling has been around since … the Stone Age.
Don't believe me? Watch The Flintstones.
Though the game's basic concepts may have remained the same throughout its long history, new trends and innovations are rolled out every year.
Dropping in on a Charles City bowling practice last week at Comet Bowl was yet another reminder of 2020.
One was the masks worn by the bowlers and coaches. Other indications were the newest tech on the lanes.
"It tells you what board you're hitting while aiming for your mark," Comet assistant coach Tyler Mitchell said of the digital reader placed on the side of the lane adjacent to where the arrows are located. "A lot of times when you ask the kids 'What board did you hit?', they don't know for sure. This tells them for sure."
It's one thing to hit your mark at the arrows; it's another to hit the right break point farther down the lane.
"That's what the break bar is for," Charles City head coach Doug Bohlen said of a mounted light bar set up perpendicular to the lane. "If your ball rolls under bar [which lower end is high enough over the lane for ball passage] where the right break point is located, the light on the bar will change to red.
"It's something new we added this season."
Last season, the Charles City Comets boys and girls bowling teams continued to add to the school's trophy collections with a pair of third-place finishes at the Class 1A State Bowling Championships. There's reason to believe substantial pinfalls will continue this season as the Comets are bringing back some of their best bowlers from both teams.
On the boys side there is junior Cael Bohlen, grandson of the head coach. A fourth-generation bowler … maybe even further back than that … Cael Bohlen placed second as an individual at state while capping a season from which he averaged 224.
Bohlen tied a program record with a near-perfect 299 game, which was part of a school-record 569 two-game series. Bohlen also helped the Comets achieve the highest meet score in school history last season.
"Cael had a monster of a year," Bohlen said of his grandson.
The Comet boys also return senior Nathan Girkin. Last season, the rangy lefty averaged 215 for Charles City.
Senior Koyer Kellogg (194 avg.) and junior Dillon Ross (195 avg.) are other returners.
"Kaleb Cotton is a strong left-handed bowler, and Landon Luft will be in the running to fill our varsity spots," Bohlen said.
The Comet girls return their top average bowler from last year in senior Sarah Mitchell, who was consistently in the 180 to 190 range last season.
Other seniors returning include Brianna Ross and Heather Viers, who both averaged around 170 last season.
"Imagin McHenry is also back," Bohlen said. "Last year, she was a freshman and it was her first year of bowling. She did pretty well for us."
Bohlen is also looking forward to the continued improvement of junior Sofia Nelson.
"Being one of our few lefthanders, (Nelson) can really help us out," said Bohlen, who also cited Claire Girkin and Ragan Hintgen as varsity lineup contenders.
As a coach, Bohlen is always pleased whenever his bowlers achieve record-breaking scores. But one of his favorite moments from last season was when Tyrell Baglan got "locked in" during his final junior varsity meet.
"Tyrell never bowled a 200 before in his life. But then on his last day of bowling, he bowled a 200 in his first game and then followed with two more 200s.
"You put in the work to improve, and sometimes good things happen."