Posted on
Comet wrestler Marissa Gallup graduates early to continue National Guard training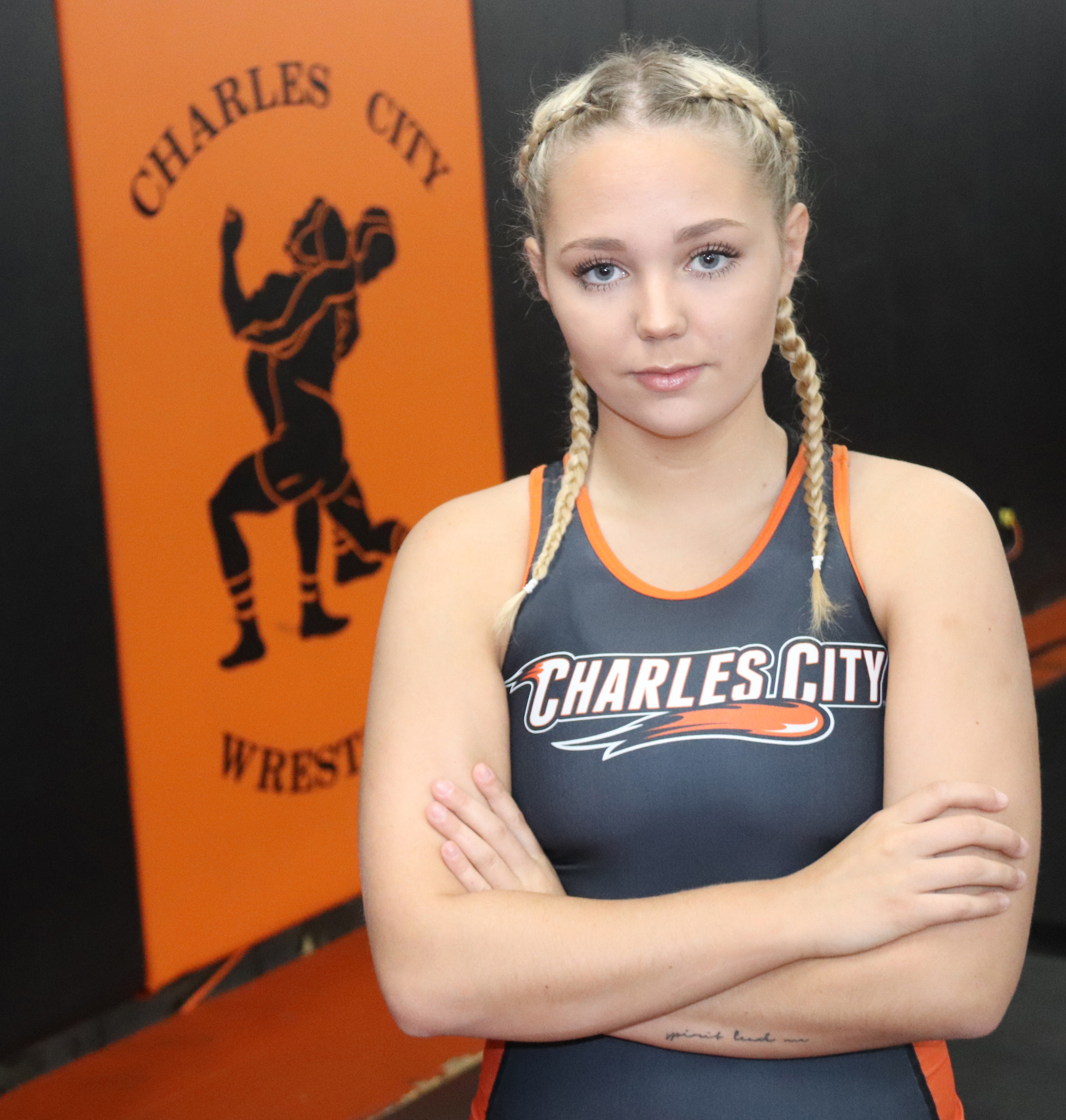 By John Burbridge
sports@charlescitypress.com
CHARLES CITY — There are recruits and there are recruiters
Consider recent Charles City graduate Marissa Gallup more the latter than the former.
Gallup has decided to leave an upstart girls wrestling state power she helped form through her dedication and recruiting efforts.
"I was part of a small group of freshmen who have stayed with the team ever since," said Gallup, who has wrestled in standard and catchweight brackets mainly ranging from 111 to 120 pounds during her career.
"We started as a way to show the boys that we can compete in tough sports, too."
Not only have the Comet girls competed, they have excelled.
Last season at the Iowa Wrestling Officials and Coaches Association Girls State Tournament at Waverly-Shell Rock, the Comet girls placed second to the hosting Go-Hawks despite being one of the smaller participating schools.
Though when we say "smaller" we mean overall enrollment. The Comets girls program itself is fairly large in roster size and continues to attract — or in some ways "recruit" — some of the best female athletes in the school.
"We have encouraged a lot of girls to come out and give it a try," Gallup said. "Since then, the team has gotten bigger and better."
The next IWOCA Girls State Tournament will be held in Coralville in late January. Gallup won't be part of Charles City's squad for this one.
During the Fort Dodge Women's Tournament held just before the holiday break, Gallup won her bracket while going 3-0 with a trio of fall victories. They were the last wins of her prep career.
A senior this school year, Gallup graduated a semester early and, thus, is ineligible to compete for the remainder of the wrestling season.
"It was a hard choice to make," said Gallup, who hopes she can still lend her services to the team in some capacity as a volunteer coach.
Gallup could have stretched out her school workload to where she would have graduated with the rest of her class in the spring. But she wanted to complete her Army National Guard training.
Over the summer, Gallup went through the guard's boot camp held at Fort Leonard Wood in Missouri.
"It was a lot of very early mornings," Gallup said of her camp experience. "It was more of a mental challenge than a physical one, but I felt it made me much stronger."
The next phase for PFC Gallup is individual training in Virginia.
Gallup is not directly following any of her family members into military service, nor was she recruited into serving with the National Guard.
"It was something I wanted to do to better myself while giving something back to my country," said Gallup, who will also continue her education in college where she plans to major in kinesiology.