Posted on
Comets soar over Kee Hawks 93-57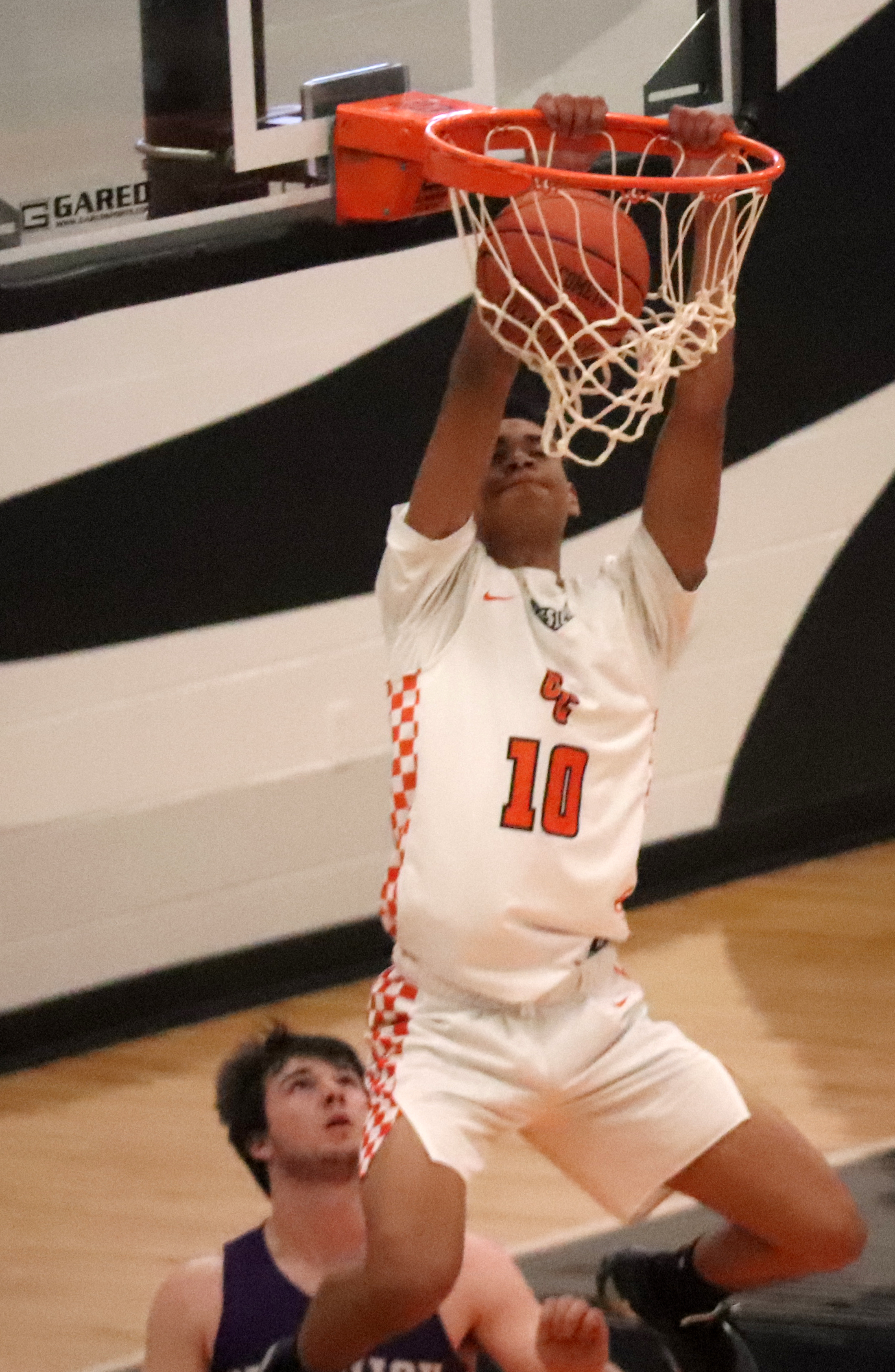 By John Burbridge
sports@charlescitypress.com
CHARLES CITY — You got the indication early into Monday's non-conference matchup between Kee and the hosting Charles City Comets that 90 points wasn't going to be enough to win this game.
As it turned out, the Comets didn't really need all of their season-high 93 points while eventually soaring over the Kee Hawks in a 93-57 final, but the game had all the makings of a shoot-out until the very end after Dalton Dibert's 3-pointer at the buzzer put Kee up 24-23 after eight minutes.
The Comets just had too much ammunition and athleticism for the Kee Hawks to keep this up as things became more one-sided as the evening progressed with the home team out-pacing the visitors 80-33 in the subsequent three quarters.
Senior JJ Ritter scored 19 of his game-high 28 points in the first half, and sophomore Chase Low scored 20 which included three throw-downs while helping the Comets improve to 4-7 overall.
Dibert helped keep the Kee Hawks in the game throughout most of the first half as he led his team with 26 points which included five 3-pointers. The Kee Hawks, who were a replacement opponent on the Comets' schedule as Charles City was originally supposed to play in Independence on Monday night, fell to 5-7 overall.
It was a loosely called game that granted offenses NBA-like non-travel restrictions. But it was the Comets' defense that really paved the way to the 35-point win.
Charles City came out of halftime scrambling to harass Kee Hawk ballhandlers on both sides of the floor. Repeatedly, the Comets would direct Kee players into double- and triple-team traps, often forcing blind jump passes easily intercepted by other Comets.
On Kee's first four possessions of the second half, Comet senior Kaden Barry was opportune for three steals.
Junior Mario Hoefer, who had 10 points, also had his share of steals and forced turnovers in the second half allowing Charles City to win going away.
Next up for the Comets is a home game against Northeast Iowa Conference foe Oelwein on Friday. The Comets defeated the Huskies 75-57 in their previous meeting this season.
* Charles City junior varsity team was able to hang on in the final minutes of the previous game against Kee, winning 40-37 after a series of steal-layups by the Kee Hawks tightened what was a double-digit lead.
* Meanwhile in Saint Ansgar, Charles City's girls lost a non-conference away game to the undefeated Saints 60-24.
The Comet girls (2-10) will travel to Oelwein on Friday as they also will be going for a season sweep over the Huskies.
CHARLES CITY 93, KEE 57
Scoring By Quarters
KEE 24 13 13 7 — 57
CHARLES CITY 23 23 21 26 — 93
KEE — Dalton Dibert 25, Landon Reams 7, Damon Weber 6, Chris Wagner 3, Jonah Reinke 5, Tyson Cota 7, Jaylen Drape 2, Chance Colsch 2.
CHARLES CITY — JJ Ritter 28, Ian Collins 9, Mario Hoefer 10, Jaxon Houdek 3, Chase Low 23, Jeb Wandro 3, Kaden Barry 6, Jeremiah Chapman 2, Drew Martin 4, Cael Ruzicka 2.